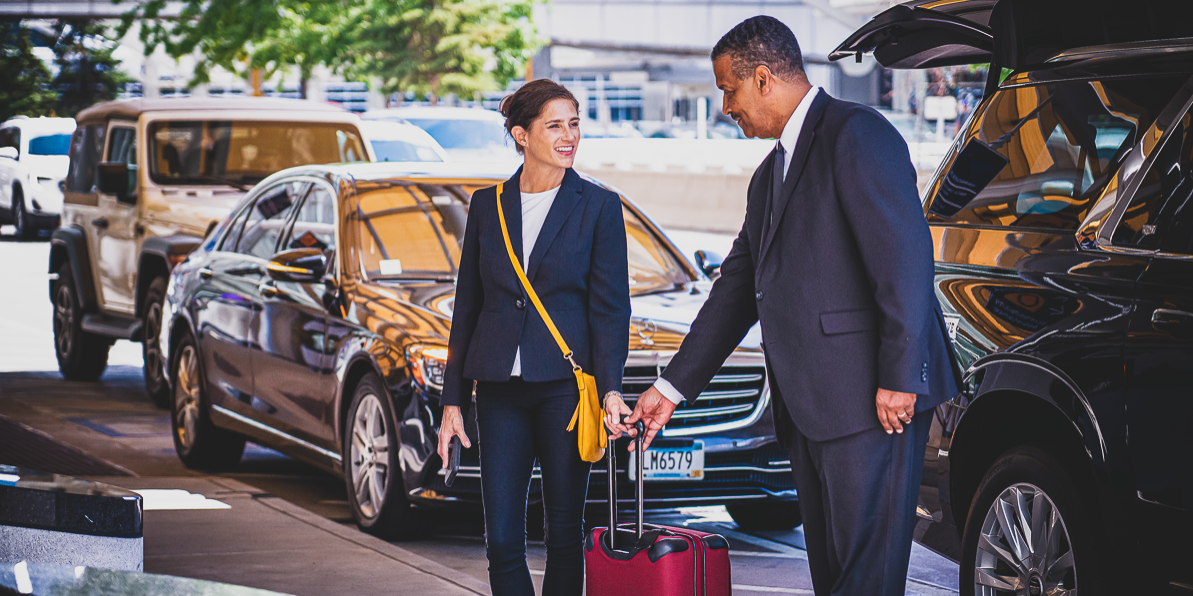 Minneapolis Saint Paul International Airport Transportation Services
Minnesota is a hotbed of innovation, and the Minneapolis-Saint Paul International Airport is recognized for its efforts to make the travel experience positive and relaxing from the moment you arrive. We want you to have the best trip possible too and are sharing some details to help ease your journey to, from, and through MSP. Whether you are traveling for business and are in need of a corporate airport shuttle, or are traveling for leisure and are looking to upgrade the luxury and reliability of your airport transportation the team at Executive Transportation has the vehicles and drivers to get you to and from MSP airport safely, on time and in style.
Arriving At the Airport
MSP recommends arriving 2 hours early for domestic flights, and 3 hours for international travel. There are two terminals at MSP, which have separate buildings and drop-off areas. While they are connected by a shuttle, you'll want to arrive at the correct terminal for a stress-free experience. When you choose an executive limo service with us, we'll know which terminal you need to be at and drop you at the door most appropriate for your flight. If you'd like to verify which terminal you need, MSP provides you with a list of airlines flying out of each terminal: Airlines by Terminal
At Terminal 1, once you head inside, you'll find the check-in desks for the various airlines straight ahead on the ticketing level (upper level), with two main security check-points at either end of the corridor. Look for the dynamic signage that will direct you to the end with the shortest lines – it isn't far to get back to the other gates once you're through. Global Entry program members can find the interview area near baggage carousel #11 on the baggage claim level. TSA PreCheck passengers can usually leave shoes on, compliant liquids and electronics in bags and continue to wear belts and light outerwear – look for the special TSA PreCheck lanes at the checkpoints. CLEAR kiosks are also available at both checkpoints.
Waiting for Boarding
Many areas of the airport have been updated to provide a better experience for you while you're waiting for your flight to board. Look for massage chairs, comfortable seating areas with charging stations and tables for working or enjoying a bite to eat, airline club rooms, and a fun array of local and national shops, restaurants and service providers to keep you entertained. Find all of the latest offerings on the MSP Map.
If you're travelling with children, look for the children's play areas at either terminal. Moms will also find lactation rooms throughout the terminal for quiet and privacy at feeding time. If you've got a stroller along, know that you can keep it with you up to the jetway. The flight crew will take it to storage from there and have it brought back up to the jetway once you've arrived at your destination.
If you're looking to catch a bite to eat before or after your flight, there are many great options. Check out these offerings with local ties for a taste of Minnesota: Republic, Holy Land Deli, Red Cow, Blue Door Pub, Hi-Lo, Cocina Del Barrio
Arriving at MSP and Getting to Your Destination
When you're coming into a new airport, finding your way to where you need to be can be confusing. While the routes through the terminal are well marked at MSP, it can be helpful to know a few things before your arrival. All passengers arriving at MSP will be directed toward the front of the terminal (at Terminal 1) and down a set of escalators or elevators to the baggage claim level. Once you've exited the secure area, just prior to baggage claim, you won't be able to return, so make sure you've double-checked all your carry-on items are with you and make any last restroom or shopping stops prior to heading down. If you're travelling with Executive Transportation from the airport, you'll have two options for meeting your chauffeur. For the most convenience, opt for Meet and Greet service where your chauffeur will meet you inside at the baggage claim to help you with your luggage and guide you to the vehicle. If you prefer to meet your chauffeur outside, courtesy service will be your preference. Head towards the information booth outside of baggage claim, and look past it to the right for the Brown Lot and Limo Lot escalator. Follow the Limo Lot signs up to where your chauffeur will be ready and waiting for you. If you have questions or need assistance locating your chauffeur, you'll have direct access to text or call for assistance. Once you're with your chauffeur, you'll be treated to the highest level of service with our executive transport options to end your journey on a high note.
Have questions?
We've put together an Airport FAQ to answer your questions about travelling to and from MSP with Executive Transportation. We're always happy to talk through your needs on a phone call as well.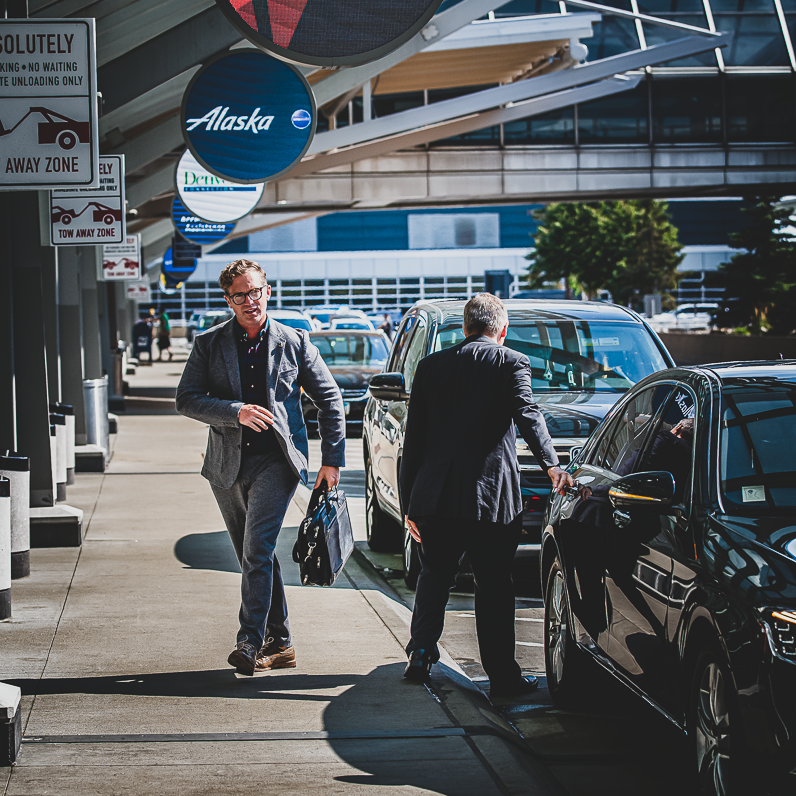 Reliable Travel. Everytime.
We understand that our services greatly influence your experience, which is why we hold ourselves to a higher standard of quality service and support. Your 100% satisfaction is what we aim to achieve every time you book a ride with us. When you've got a plane to catch, you need to arrive on-time, which is why we track your flight number and monitor schedule changes on your behalf. We pride ourselves on providing you with the best service so you can travel with confidence.
We start your experience the moment you book. Enjoy the peace of mind that our chauffeur and office staff are monitoring your flight for schedule changes to help you arrive on time. We'll send you updates when your chauffeur is on the way, and when they've arrived to pick you up so you don't have to wonder when you need to head out the door. Opt for our in-vehicle wi-fi services to take care of last minute work, or check in for your flight before you arrive at the airport. Enjoy the help with your luggage and relax before or after your flight so you arrive at your destination refreshed and ready for life's next adventure.
For individuals and smaller groups we have an assortment of luxury sedans and SUVs to get you to and from the airport in complete comfort. For larger groups, we have a fleet of luxury passenger vans that can seat up to 14, and a selection of mini-bus, mini-coach and full size coaches for our largest groups. All are operated by safety-certified professional chauffeurs who are trained to provide you with the best experience possible.
Book Your Airport Transfer
When you're looking for a quick, comfortable and safe ride to or from the airport, look no further. Our chauffeurs travel to and from the airport daily, and know the best routes to take and exactly where you'll need to be picked up or dropped off. If you're headed straight to or from the airport, use our Airport option when booking for special rates. If you've got some stops to make along the way, please select hourly and let us know your desired schedule. Our customer service representatives will review your request and ensure you've got enough time planned in to arrive on time for your flight prior to confirming your booking with you.
Looking to venture into the surrounding area? We provide limo service in throughout Minnesota and Nationwide.

You Have Somewhere Important to Be.
We Help you Arrive With Confidence.
In a world that is constantly changing, we strive to provide reliable ground transportation you can count on —
no matter where life takes you next.