Wine Tours For Every Occassion
Wineries may not be the first thing that comes to mind when visiting Minnesota, but if you enjoy new and exciting varietals and innovative winemaking, then Minnesota wineries are a treat that shouldn't be missed. In addition to producing a stunning selection of fine wines with popular and traditional grapes like Cabernet Sauvignon and Chardonnay, Minnesota has local wine varietals that thrive in our cold climate and steal the show.
Let Executive Transportation Do The Driving
A tasting tour of some of the finest wineries in the Minneapolis area makes for a memorable trip no matter the occasion. So if you are planning a girl's night out, a date night, a bachelorette party, or a corporate outing, let the professionals from Executive Transportation take the driving off of your plate. That means everyone on the trip can enjoy the wine and everyone can join in the festivities safely and responsibly. Executive Transportation will help you plan your itinerary if you have specific wineries that you would like to visit, or we have relationships with local wineries so you can leave the planning to us.
Curated Winery Tours
We have built a relationship with the winemakers at Schram Winery to provide you with a personal wine tour like none-other. You will be provided with private luxury transportation and stops at Schram Vineyards, AxeBridge Wine Co., and Schram Brewery. This includes guided and curated tours and tastings at each stop to maximize your experience.
Custom Winery Tours
If there are specific wineries and vineyards that you would like to visit, our team can work with you and the wineries to create a custom itinerary for your wine-tasting tour. Contact our booking team to create a fun and customized wine-tasting tour that you will never forget.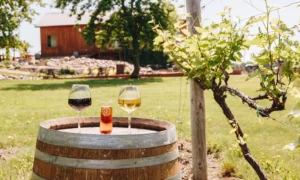 Is It Too Cold To Make Great Wine in Minnesota?
If you think of the greatest wines from around the world certain wine varietals are virtually synonymous with the ground from which they spring. Because winemakers and vineyard operators are to some degree at the mercy of the elements, they have discovered the grape varietals that thrive in the growing conditions that are prevalent in the region. It is no accident certain varietals are associated with the regions they made famous. Think of Chablis and Chardonnay or Nebbiolo and Barolo. What makes many of the wines in Minnesota special is that they have been specifically developed to deliver delicious tasting wines while thriving in the cold weather of Minnesota.
Grapes of Minnesota
Minnesota has several wine varietals that are coming to prominence because they have been bred to thrive in the cold winter climate of Minnesota and to take advantage of the long hours of sunlight in the summer months. They include both red and white varietals and certain local vineyards reserve a portion of their acreage for planting these homegrown favorites.
Frontenac, Frontenac Gris, and Frontenac Blanc
Frontenac is a cold hardy hybrid that was developed to withstand very cold winter temperatures by the agriculture program at the University of Minnesota. It produces loose clusters of grapes that are used to produce dry red, rose, and fortified wines. Frontenac is known for producing wines with distinct cherry and red fruit quality with bright acidity for balance. Frontenac Gris and Frontenac Blanc are both mutations of Frontenac and produce grey (gris) and white (blanc) grapes. Frontenac gris is the more widely planted varietal and is known for its aromas of stone fruit, peach and apricot, tropical fruits, and bright acidity making for an excellent and well-balanced wine.
La Crescent
La Crescent is another white wine varietal that was developed by the University of Minnesota's cold weather grape program. It offers aromas of citrus, pineapple, and apricot.
Marquette
The Marquette grape was also developed by the team at the University of Minnesota. It is a red wine varietal that is descended from Frontenac and related to Pinot Noir. It creates a medium-bodied red wine with notes of cherry and dark berries, such as blackberry and black currant with finer examples demonstrating a peppery finish.
Wine Tasting Tips
The key to enjoying wine tasting is to go into it with the right attitude, wine tasting should be fun. This isn't a master-level sommelier exam, it is a fun activity with your friends and loved ones. But there are a few techniques that you can use to get the most out of your winery tour. First of all, allow the professionals at the winery to guide you through the tasting process, they will know the best glassware and pairings to highlight the best qualities of their various offerings.
The Nose
The first step in tasting a wine is to really smell it. Give the glass a good swirl to aerate the wine, then tilt the glass and get your nose as close to the wine as possible before a giving it a series of short quick sniffs. It has been shown that the brain is not great at identifying in words the aromas that it is perceiving, but it is much better at associating those smells with a pre-existing list. So a list of smells that are associated with wine can really improve your ability to distinguish what you are smelling in the glass and make your wine tasting more enjoyable in the process.
The Palate
Once you have smelled the wine and identified its aromas it is time to taste the wine. The taste of wine includes the aroma, body, texture, and flavor of the wine. The body of the wine is described on a continuum from light, medium, and full-bodied. The texture of a wine is sometimes described as how it feels in your mouth. These sensations are usually described as textures such as smooth, silky, and velvety or rough, coarse, hot, or sharp. These differing descriptions come from different components of the wine from tannins, alcohol content, and residual sugar levels. Identifying the flavors themselves is the most complex element of the tasting process. Creating an exhaustive list of wine flavors would be impractical, but identifying a few categories of white and red wines might be helpful in your tasting experience. White wines will often have flavors identified in these categories of fruits, vegetables, butter and creams, grains and nuts, spices, flowers, earth, and barrel-imparted flavors. Red wines will have flavors identified as fruits, vegetables, coffee and chocolate, herbs and spices, tobacco, flowers, earth, animal aromas, and barrel-imparted flavors as well. When taken together all of these factors will play a role in how you taste and experience wine.
Wine Tours With Executive Transportation
Plan your wine tour with the professional team from Executive Transportation. We work with you to make sure that your next date night, bachelorette party, or corporate outing is one you will never forget.
Vineyard Tours
"*" indicates required fields
Share this Blog Post with a Friend or Family!